Photovoltaics installed on Allure of the Seas
In: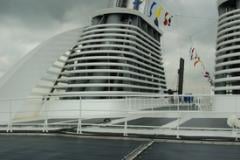 United Solar, a leading global manufacturer of light-weight, flexible thin-film solar modules and a wholly-owned subsidiary of Energy Conversion Devices, announced today that their UNI-SOLAR® brand photovoltaics have been installed on Royal Caribbean's Allure of the Seas cruise ship.
Royal Caribbean International launched the Allure of the Seas on December 5 out of Port Everglades in Ft. Lauderdale, FL, with UNI-SOLAR laminates installed by BAM Solar of Miami providing electricity for the ship's shopping district.
"UNI-SOLAR laminates were the only solution that works for such a unique solar application like this," said Andrew Rasken, President of BAM Solar. "We needed lightweight. We needed a solar product that doesn't require surface penetrations, one durable enough that people can walk on, and that will stand up to the rigors of the harsh elements of being at sea. UNI-SOLAR's product versatility, flexibility and numerous unique characteristics of the laminates were the perfect solution for this exclusive and fun application—one which BAM Solar is honored to have been selected to design, manage and install."
This project is BAM Solar's second installation of UNI-SOLAR laminates on a Royal Caribbean cruise ship.
"The first Oasis-class ship, Oasis of the Seas, has had such positive feedback for using solar that we knew we had to do it again with our Oasis' sister ship, Allure of the Seas," said Rasmus Norling, Royal Caribbean Cruises Ltd., Manager of R&D Environmental Technologies and Environmental Stewardship. "Royal Caribbean is devoted to environmental protection and is the industry leader in our commitment to energy sustainability. Solar is one part of that mission."
"United Solar has exciting new product developments in both commercial and residential solar," said Mark Morelli, President and CEO of United Solar's parent company, Energy Conversion Devices. "The use of our laminates on cruise ships is just one more application that has proven to be a great fit for our flexible, light-weight, durable product—powered by UNI-SOLAR. We are very pleased to have partnered with BAM Solar on this very unique installation."