Looking at the lighting inside Oasis of the Seas Part Two
In:
Last week we posted an article detailing the lighting that was installed on Royal Caribbean's Oasis of the Seas, which gave a behind the scenes look at the inspiration and design of the interior lighting aboard Royal Caribbean's latest and greatest ship.  This week, part two of the article has been posted which explores the interior design of more of the ship.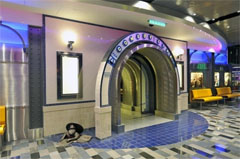 Michael Riotto of Michael Riotto Design LLC was in charge of the lighting and for the nightclub "Dazzles", Riotto had an easier time than in other locations where the height of the room was an issue. Being three decks high, there's lots of room to work with.   Riotto used a selection of Elation Professional Impression LEDs above the riser, and some of his looks catch the steel beams and reflect off the glass, creating unique looks behind any band performing on the stage.
Over at the Comedy Live nightclub, Riotto built a scale mockup to demonstrate the different LED colors and intensities. "It ended up being a very collaborative process that turned out to be a very creative transition space from a public gathering space outside, to a colorful entertainment venue inside".